by Savannah


And the clay court season is under way. Interesting draw here at what is arguably one of the most beautiful venues on the tour. There doesn't seem to be a really bad seat in the place and most everyone comes to play. Not to mention many players get their residency requirements in during this event.

[1] FEDERER, Roger SUI vs BYE
QUALIFIER vs QUALIFIER
LEE, Hyung-Taik KOR vs BJORKMAN, Jonas SWE
MOYA, Carlos ESP vs [13] YOUZHNY, Mikhail RUS

[12] FERRER, David ESP vs SIMON, Gilles FRA
[WC] BALLERET, Benjamin MON vs BENNETEAU, Julien FRA
TURSUNOV, Dmitry RUS vs GAUDIO, Gaston ARG
BYE vs [6] DJOKOVIC, Novak SRB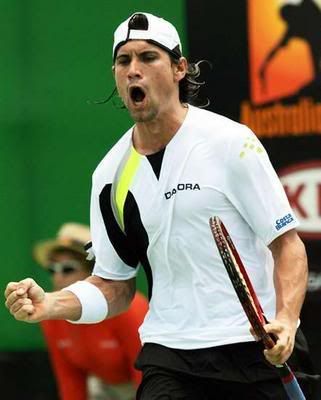 Looks like they want to set up a Djokovic vs Federer showdown. Djokovic is one of the few men Federer has admitted to disliking so that would be interesting to see. On the way, there are some interesting matchups.

I'm sure Federer wants to come out taking names. The most exciting match in his quarter is Youzhny vs Moya. Moya can still pull some good tennis out of his butt and if he shows up this may be one of the more interesting first rounds matches. The winner should face the winner of Federer's second round match.

In Djokovic's quarter there are several nice matchups starting with Ferrer vs Simon. David Ferrer hasn't been playing well lately after doing pretty well last year. (Craig's note: he's been nursing a shoulder injury since Miami.) I'm sure he'd like to win this opening round match and go on to face either Benneteau or Balleret.


Tursunov vs Gaudio is my star match up in this quarter. Gaudio desperately needs a win. Tursunov should be fresh since he didn't play Davis Cup this go around. If Djokovic comes out playing the same level of tennis he played in Miami he should beat either of them in the second round. But this is clay. Let's see how patient Djokovic can be and how good his conditioning is.

[4] GONZALEZ, Fernando CHI vs BYE
ANDREEV, Igor RUS vs ACASUSO, Jose ARG
MASSU, Nicolas CHI vs VOLANDRI, Filippo ITA
HENMAN, Tim GBR vs [16]FERRERO, Juan Carlos ESP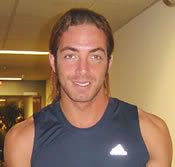 Another random draw where they put Gonzalez and Massu in the same quarter. Random draw, blah blah blah. Andreev vs Acasuso is a nice undercard. Gonzalez hasn't shown much since Australia and it'll be interesting to see him here on the dirt. If Acasuso comes to play Gonzalez will be facing him in the second round. Massu has been playing well of late but it's pick 'em in his match against Volandri.


Juan Carlos Ferrero vs Tim Henman should see Juanqui meet the winner of Massu/Volandri. This isn't an easy quarter for Gonzalez since everyone but Henman can play on clay. Tough section.

[11] GASQUET, Richard FRA vs VERDASCO, Fernando ESP
QUALIFIER vs HRBATY, Dominik SVK
MONFILS, Gael FRA vs STEPANEK, Radek CZE
BYE vs [7] LJUBICIC, Ivan CRO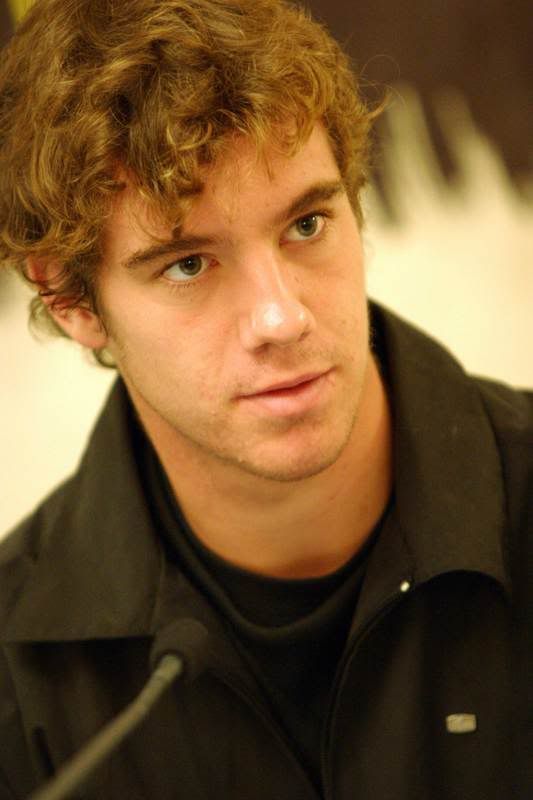 Gasquet, benched by Guy Forget for the deciding rubbers in Davis Cup play has seemed annoyed about suggestions he is the young gun left behind. I think that distinction goes to Monfils right now but I digress.

The Spaniards have a lot to prove after their dismal DC showing and I'm sure they want to send the message that it was all about the surface not them. Both Gasquet and Verdasco are loaded with talent rarely seen on a tennis court.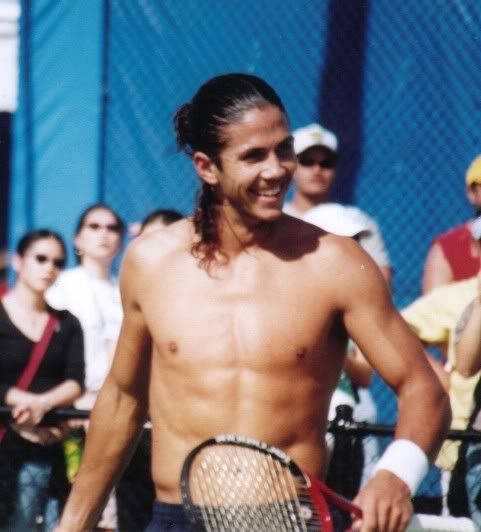 Stepanek should be facing Ljubicic in the second round but you never know with Monfils. He has been playing away from the main tour and we know he loves the dirt.

As I have often said clay is the great equalizer. What should happen isn't always what does happen. Another iffy section.

[5] ROBREDO, Tommy ESP vs BYE
CLEMENT, Arnaud FRA vs [WC] SERRA, Florent FRA
BECKER, Benjamin GER vs [WC] JOHANSSON, Thomas SWE
ALMAGRO, Nicolas ESP vs [10] BERDYCH, Tomas CZE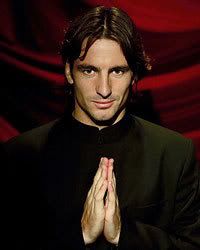 When it comes to Tommy see what I said above about the men who played on the Spanish Davis Cup team. Almagro wasn't on that team and he's going deep at Valencia. That may give Berdych an edge in their match, but just. Unless lighting strikes Becker should be meeting the winner of Almagro/Berdych.

I do give Thomas Johansson credit though. At least he tries, unlike the men from a certain country who develop mysterious injuries or fatigue when it comes to the early part of the clay season.

[14] BAGHDATIS, Marcos CYP vs MIRNYI, Max BLR
QUALIFIER vs MELZER, Jurgen AUT
ROCHUS, Olivier BEL vs SODERLING, Robin SWE
BYE vs [3] DAVYDENKO, Nikolay RUS


Nice section. Weakest links may be Soderling and the man who makes it via qualifying. The Swedes come here and play. For that they get my respect. Not an easy section for Davydenko.

[8] MURRAY, Andy GBR vs BYE
GICQUEL, Marc FRA vs MAYER, Florian GER
QUALIFIER vs QUALIFIER
QUALIFIER vs [9] NALBANDIAN, David ARG

Let's see if Mouth Almighty has his charge ready for clay. Since Americans have an aversion to the red dirt it'll be interesting to see how Murray does here. Neither Mayer nor Gicquel are pushovers and Nalbandian just had a nice tuneup exhibition in Mallorca.

[15] NIEMINEN, Jarkko FIN vs SAFIN, Marat RUS
VLIEGEN, Kristof BEL vs [WC] MATHIEU, Paul-Henri FRA
CHELA, Juan Ignacio ARG vs VERKERK, Martin NED
BYE vs [2] NADAL, Rafael ESP


Vliegen vs Mathieu caught my eye here. Will we see Mathieu vs Safin Round 2? Will Marat decide it's worth his while to play well here? Who knows? But it's going to be fun.

Clay draws are more equal because the surface brings everyone to the same level. Clay favors the players who are patient, in good shape, know how to slide and know how to build points and think well on court. Vliegen made a nice statement during his interview on ATP Tennis. A point on hardcourt can be over in three shots he said. On clay you have a lot more balls coming at you and you have to wait for your opening.

Again I applaud the Swedes for playing here and yes I'm rubbing it in. Tennisheads know their preferred surface and that clay is not it. Yet they come. Because of the leveling effect of the dirt every player has a chance and they take theirs. It's insulting to the sport for the American men not to even try and play much before Rome and why Murray's performance here is something to pay attention to. Will Brad Gilbert have him ready for a deep run? With the ATP trying to downgrade this and all but a few of the big clay tournaments Murray going deep here would allow Gilbert to name his price almost anywhere and make what the LTA is paying him look like chump change. It would also put the lie to the talk that American's can't play on clay because there are no professional level coaches able to teach it. The talk about Americans just not wanting to learn I can't deny because in this case actions are speaking louder than words. Maybe Murray has an advantage over other Brits because he's trained in Spain. I'm by no means a big fan of Brad Gilbert but there is really no excuse for the American's to not even show up here and try.

This is always an exciting tournament and this year should be no different.

Let the games begin!