2008 will go down as the year this tennis fanatic didn't pay that much attention to tennis. An historic US presidential election took up most of my attention. I didn't even watch all that much of the US Open because I was in Denver at the Democratic National Convention. So this entry may be lacking. I can only judge what I saw. Without further ado...

Players Of The Year: Rafael Nadal and Serena Williams




The men's pick was no contest. Rafa won his fourth consecutive Roland Garros and a few weeks later, dethroned Roger Federer on the lawns of Wimbledon in the most breathtaking match I've ever seen. Not since Bjorn Borg in 1980 has a man won the natural surface double. Rafa also won an Olympic Gold and three Masters shields. And after spending the longest time at No. 2 in the history of the rankings, he finally ascended to the top spot and finished the year there.

The WTA choice was more tricky. Jelena Jankovic finished the year atop the rankings, but only managed to make a single Slam final, which she lost to Serena. Venus Williams finished the year strongly by sweeping to victory at the Season Ending Championships. But it was Serena who put together the most impressive stats in 2008. She made two consecutive Slam finals, won her third US Open, appeared in the best WTA matches of the year, reclaimed the No. 1 ranking for a short time, and defended her title at the "fifth Slam" in Miami. And who can forget her 6-2, 6-o rout of defending runnerup Justine Henin in the quarterfinals? That performance alone could qualify her for this honor.

Greatest Performances: Maria Sharapova and Rafael Nadal




Maria's run to the championship in Melbourne seems like a lifetime ago, but it deserves this accolade. She served up three bagels, including one to the world No. 1 in the quarterfinals, didn't drop a set, and lost a grand total of 32 games through seven rounds. It was the most dominant Slam performance of any WTA player all year.

Rafa won his fourth Roland Garros without dropping a set, but this was his most dominant performance of the year. Forgotten in all the hoopla is that he destroyed Raja in the final 6-1, 6-3, 6-0. When was the last time Raja ate a bagel? In a Slam final? My answers: I can't remember and never.

Best ATP Match: Rafael Nadal d. Roger Federer, Wimbledon Final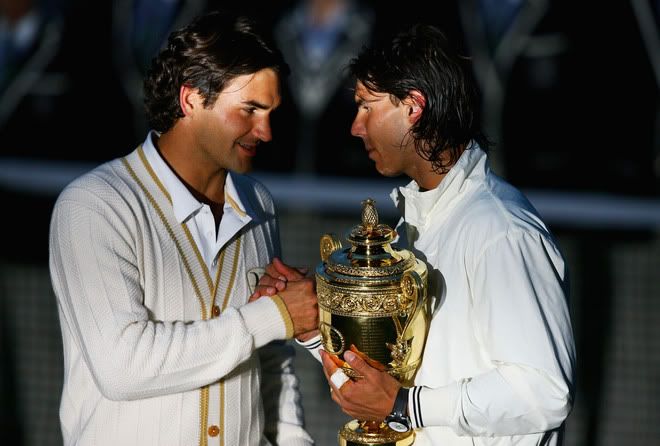 Runner up: Andy Roddick d. Felciano Lopez, Dubai Final

The greatest match that almost wasn't. Rafa was poised to defeat Raja in straight sets. Up 5-2 in the third set breaker and then a double fault. The 6-4, 6-4, 6-7(5), 6-7(8), 9-7 rest is history. Reader peytonallen put it best:


I've ripped Fed for a year for dressing up for the ceremony after he won last year. No more. To his credit, the man dressed up for the Runners-up trophy as well.

Greatest match I've ever seen. Both men played so well. Nadal is just a monster. Everything his fans in this blog have said he's had to do to improve and win on a fast surface he's done really over the past two months.

Increased depth in his returns and ground strokes. More aggression when he has a play, and finally a better serve. Nadal may never hit 15 aces in a big match, but he outserved Roger today.

[John McEnroe] giving Fed a hug, nearly bringing a sob from Fed was classic. You did feel bad for Fed. He tried so hard. Most of the time he's class. But, somebody had to lose. But both of them were going to sob.

Rafa played better. He deserved to win. If he had lost after losing that 4th set breaker, I would have been sick, can't imagine how he would've felt.

I thought it was over at 5-2 in the 4th set breaker. A choke, but after the choke he didn't turn back. Fed played brilliantly to save the [matchpoints].

Roger's serve was the only thing really keeping him in the match. He got on a streak after the first rain delay and served too well in the 3rd set tiebreaker. Midway through the 4th his service games were there for the taking, but he came up with big serves when needed for literally a set and a half. 0-30 three big serves, etc.

[What] cajones by Nadal to keep fighting after he choked the 4th set. When facing a break point in the 5th, [he] just wearing Roger down with darkness coming. He earned that one.

I can't think of anything else to say. The Roger is done talk can be saved for another day, but it's clear he's no longer the best player in the world.

And who could have seen this coming? In the fall Nadal was waxed by Roger and then you hear stories coming from Rafa's doctor that says his foot is damaged and career nearly over. Then Uncle Toni rebuts.

He gets blown off the Aussie Open court.

And now... the light switch has come on, Nadal entered his prime years.
Best WTA Match:

Serena Williams d. Jelena Jankovic,
US Open Final
Runner up:

Serena Williams d. Venus Williams, US Open Quarterfinal


This match inspired me to write a
letter
to the tennis gods.
Thank you for such an extraordinary tennis match last night. It was easily the best US Open women's final I've ever seen live. For a change, not one was cowed by the moment. Just to win most of the points, Serena and Jelena had to travel coast to coast, north and south, just to come back to the middle to put a ball away. I was getting tired just watching the match. So much running. 6-4, 7-5. Two sets. Over two hours. Felt like the match went to a third-set tiebreak, didn't it?

Thank you for giving the divas the energy to keep it up. Jelena surprised me with how well she played and fought and wouldn't let Serena run away with it. Perhaps she might consider focusing on the match more than her own image on the jumbo tron, but whatever works.

Thank you most of all for allowing my girl to prevail. Her focus, even when her legs froze toward the end of the second set and she couldn't keep the ball in the court, was laser sharp. She almost looked like she had a flashback to that horrible night in 2004 when that chair umpire who shall not be named lost her that quarterfinal against Jennifer Capriati. Who just happened to be there last night.

It's been a long time between drinks, and I was beginning to think you had forsaken me. But it was worth the wait. Six years since Serena won her last US Open. That's the longest stretch in the Open Era between singles titles won by a woman player at the same Slam. Five years since Serena was ranked No. 1 in the world. The longest stretch since the ranking systems began for a player to fall from and return to the top of the charts.

And she did it all without dropping a set. She saved at least 11 set points in the final two matches, no?

I've never seen her so happy after winning a Slam. She looked like she was going to jump right out of the stadium. Reminded me of her big sister after winning Wimbledon in 2005 in a great, great final. And Venus was right there channeling her energy down to the court and rooting her little sister on to victory. Her father was dancing in the aisles. Her mother wore that 1,000 watt smile from ear to ear. It was a beautiful thing.
Worst ATP Match:

Ivo Karlovic d. John Isner,
New Haven Second Round
The two giants can serve, but neither can return serve and even when they did, most of the "rallies" ended in unforced errors. Almost unwatchable.
Worst WTA Match:

Shahar Pe'er d. Dinara Safina,
Wimbledon Third Round
Not exactly sure what it is about Shahar that makes Dinara wilt (Dinara didn't beat her once in three tries in 2008) but whatever it is, it makes for some ugly tennis.
Biggest Performance Breakdown, ATP:

Novak Djokovic to Marat Safin,
Wimbledon Second Round
Biggest Performance Breakdown, WTA:

Svetlana Kuznetsova to Alona Bondarenko,
Berlin Third Round
Biggest Upset, ATP:

Phillip Kohlschreiber d. Andy Roddick,
Australian Open Third Round
His draw through to the semifinals was too good to be true. Andy squandered it all by falling in five sets to the pesky German for the first time in his career. He'd never even dropped a set to Phillip before. Jimmy Connors walked shortly thereafter.
Biggest Upset, WTA:

Tie - Julie Coin d. Ana Ivanovic,
US Open Second Round;
Alla
Kudryavtseva d. Maria Sharapova
, Wimbledon Second Round
Seems that the worst thing to happen to Ana was winning Roland Garros. Her results went down hill pretty fast, even though she rebounded slightly in the fall. But how did a qualifier ranked No. 188 beat the champion in a Slam?
Maria claims her shoulder caused this upset at her favorite event. She only played one more event in 2008 after this straight-set beatdown by her younger compatriot.
Biggest Overall Dispointments:
Larry Scott and Etienne de Villiers

Most Surprising Runs:

Jheng Zie and Jo-Wilfried Tsonga
Just two years after
Li Na
became China's first Slam quarterfinalist at Wimbledon, Zheng become's the nation's first Slam semifinalist at the same event. After recently recovering from ankle surgery, Zheng's ranking couldn't get her into the main draw of a Slam. So she wrote a letter to the AELTC and urged the powers that be to grant her a wild card. They honored her request. Round after round, she angled her powerful backhand, past Ana Ivanovic, the world No. 1, the biggest upset of the fortnight, past
Agnes Szavay
, past
Nicole Vaidisova
, right into the semifinals. Her efforts would also give her the year's best comeback award.
Tsonga, despite all his talent, had never been consistent enough (or injury free) to put together a great run over two weeks at a Slam. All that changed at the Australian Open. Most fans thought he'd lose to
Andy Murray
in the first round. But he surprised Andy with his power, precision, and all-court prowess, setting the stage for his historic run to the championship match. Tsonga suffered an abdominal injury which kept him from competing at Roland Garros and Wimbledon, but he came back strong in the fall to win the BNP Paribas Masters with wins over
Radek Stepanek
,
Novak Djokovic
,
Andy Roddick
,
James Blake
, and defending champ
David Nalbandian
. Another surprising run to bookend a year that ended him in the Top 10.
Most Improved Gonads
:
Gilles Simon and Dinara Safina
Honorable Mentions:

Juan Martin del Potro, Andy Murray, Vera Zvonareva
If I had told you at the beginning of the year that Simon would end the year at No. 7, you probably would have laughed me off my own blog. But he kicked off the summer hardcourts with a victory in Indianapolis, beat Raja in the second round at the Canada Masters, took
Juan Martin del Potro
to the limit at the US Open, and made his first Masters final in Madrid. Proving his victory over Federer was no fluke, he got him again at the Masters Cup and advanced to the semifinals where he fell to eventual champ.
Dinara has come a long way in getting out of her own way. In her run to the Berlin title, she beat Justine and Serena back-to-back. The title gave her the confidence to fight through to her first Slam final in Paris. She was down and out to Maria in the fourth round, but she battled through that match and then vanquished
Elena Dementieva
and
Svetlana Kuznetsova
to set up her Saturday date with Ana. She won two more events in the summer, won an Olympic Silver, made the final four at the US Open where Serena was just too much to handle, and won another Tier I in Tokyo. She ended the year at a career-high No. 3 ranking.
Outstanding Newcomers:

Caroline Wozniacki and Nishikori
Kei
Best Comebacks:

Rainer Schuettler and Zheng Jie
I've already written about Zheng, so I'll skip right to Schuettler. After playing most of his events on the challenger circuit in 2007 and the first half of 2008, the 32-year-old 2003 Masters Cup participant made the semifinals of Wimbledon and had a few decent respectable runs in the fall.
Best Farewell:

Gustavo Kuerten
He went out in front of his beloved fans on his favorite surface. And he received a
wonderful tribute
. We'll miss his infectious smile.
Worst Farewell:

Justine Henin
Two years in a row, two tainted WTA retirements. Not even Justine's publisher, who had planned to take advantage of the tour schedule and release her book around her beloved Roland Garros, had a clue Justine would give up the tennis ghost. It was the most abrupt retirement of a reigning world No. 1 the sport has ever seen. I'm not sure a reigning No. 1 has
ever
retired.
The way the mainstream tennis media ushered out their tributes and retrospectives before Justine even held a press conference to officially announce her retirement smacked of nothing less than a cover up.
I won't write what I really think about it, I probably don't have to because I bet you can read between the lines, but if Justine wants us to believe she was simply burnt out a few months after her best year ever on the WTA, then I've got a bridge up in Alaska to sell you.
Coaches of the Year:

Oracene Price
and Toni Nadal
For the second year running, Oracene Price coached each of her tennis star daughters to Slam titles in 2008, making it the third time in history that siblings have won Grand Slam singles titles in the same year. 2005, 2007, 2008. Richard Williams deserves credit as well.
Toni Nadal coached his nephew to the top of the charts with back-to-back-to-back huge victories.
Biggest Tennis Powerhouse:
Spain
Russia swept the medals in women's singles in Beijing and won another Fed Cup, but Spain takes this cake. The women's team made their 11th Fed Cup final. The men's team took the Davis Cup for the second time since 2004. Rafa won an Olympic Gold and the biggest prize in tennis, the first Spaniard to win on the lawns of Wimbledon in 42 years. In the wake of Spain's Davis Cup victory, Prime Minister Jose Luis Rodriguez Zapatero announced the formation of a
full-fledged sports ministry
.
Strongest Ovaries:

Venus Williams
She won her fifth Wimbledon by beating her sister in the final. Having lost 5 consecutive Slam finals to Serena in 2002-2003, she simply refused to go down that road once more. Even though Serena got off to a great start in the first set and looked as though she might run away with it, Venus hung tough, and the moment Serena cracked, Venus turned it up several notches to remain Queen of London. Serena returned the favor in New York, but Venus got the last laugh with a stunning performance at the Season Ending Championships where she swept through the field without losing a match to win her first year-end title in her entire storied career.
Biggest Balls:

Feliciano Lopez and Fernando Verdasco
They needed to win the doubles rubber, not because Spain was down 2 rubbers, but because Spain would need the momentum to have a chance to beat Argentina on home soil. Something that had never happened before. Neither is known for his mental toughness, but Davis Cup can bring out the best in the frailest of the frail. Down a set and facing a hostile crowd, the Spanish lefties with the big serves and bigger forehands got their acts together and proved to
David Nalbandian
and
Agustin Calleri
that a strong doubles team will usually prevail over two singles players thrown in the ring to play doubles.
Photos Of The Year