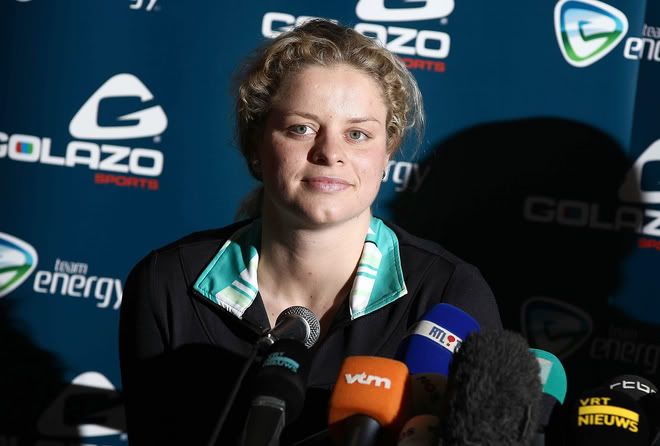 Former Belgian tennis champion Kim Clijsters gives a press conference at the De Boneput tennis center, in Bree, northern Beligum, on March 26, 2009. Kim Clijsters of Belgium on Thursday announced her return to competitive tennis almost two years after retiring from the sport at just 23 years old.

::

From her website:


In August Kim Clijsters will return to the world of professional tennis and participate in three official tournaments: the US Open and the WTA tournaments of Cincinnati and Toronto. In the period leading up to that, several exhibition matches have been scheduled. Kim will play in Belgium only once, at the Diamond Games. The event has been reshaped and the 'new formula' will take place in Antwerp from 10 to 13 December.

Kim Clijsters started the year eager to be training again on a frequent basis and her initial aim was to take part in a few exhibition matches. Her hunger for competition has proven bigger than assumed and she still enjoys thorough and strenuous training sessions. Which is why she decides to see what would be feasible, combined with her family life.

On 10 August Clijsters will be playing her first official match in Cincinnati, her first competition since she retired on 3 May 2007. The subsequent week Kim starts the Toronto tournament. On 31 August she returns to the US Open, the Grand Slam tournament she won in 2005.

"It all started with preparing for the gala match at Wimbledon, all pretty laid-back. I liked it that much I was onto my training schedule from my pro days and then the hunger for more comes automatically," Clijsters says. "I am look at this as a second career, not as a comeback as I am now in a situation where not everything evolves around tennis 24 hours a day. We'll see how I, Jada and the others in my environment respond to this."

On 17 May, Clijsters will be playing her first matches, during A Centre Court Celebration, the official opening of the retractable roof at Wimbledon. In June an exhibition match in Rosmalen awaits, followed by two more in the US in July. Kim will take stock after the official tournaments in August.
::
Full disclosure: I was never a fan. But when I read the reports that her father died of cancer, the first thing I thought was, She's definitely going to come back now.
The loss of a father can be one of the most transforming experiences of a person's life, no matter how old they are. But for someone as young as Kim, who just had a child of her own, I can imagine that the only thing she can do with her grief is get out on the court and train and grind, but above all else,
compete
. Afterall, her father brought her to the sport.
She always struck me as a politician. Something about the way she presented Miss Congeniality to the media and the fans, but behind the scenes, she seemed ruthless about getting her way. Like a good politician, she leaked her announcement to the press and followed it up days later with a huge press conference.
As we bemoan the current boredom of the women's tour, this announcement couldn't come at a better time. Beloved around the world and with a game that will give all these young ball-bashing baseliners fits (for those who think
Victoria Azarenka
is the next champion, think again...), her mere presence will inject the tour with some much-needed life.
Who knows, maybe motherhood and father loss will cure her biggest liability -- her mental frailty -- and she will go on to win another Slam or two.
Surely she can see her opportunities. Now she intends to seize them.